ALA Scientific Instruments
VC3-8xG
8 Channel Valve Controlled Gravity Perfusion System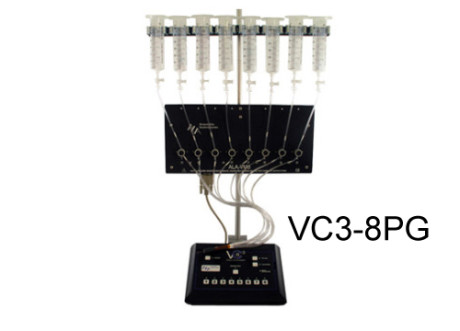 The VC3-8xG Series from ALA includes 8 channel valve controlled gravity perfusion systems that fulfill the basic require ments of the student lab but can also be optimized to fit the most demanding applications of patch clamp recording and/or imaging. All VC3-8xG Series systems provide electronic control of solution exchange which improves reproducibility over manual methods. These systems are designed to minimize electronic noise so sensitive electrophysiological recordings are not disturbed.
Key features of the VC3-8xG Series include:
Choice of low-maintenance pinch valves or fast-response solenoid valves
Customizable reservoir sizes and materials
DAQ control via analog or TTL input
Valve control through DAQ, Valve Commander software, or controller
Spill sensor with automatic shutoff to protect microscope optics
Valve open and close timestamps via analog or digital output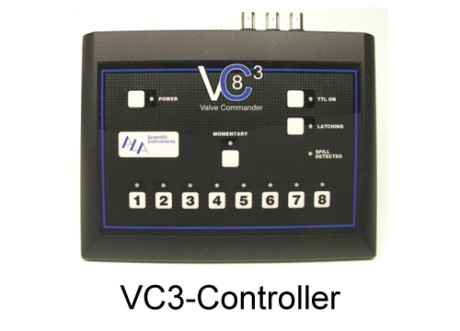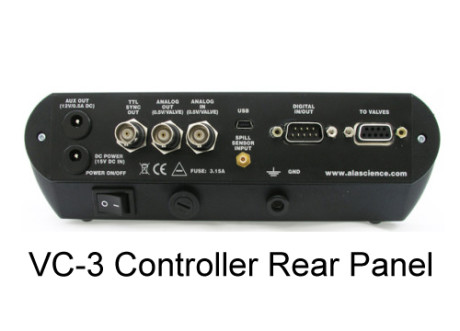 Details
Each VC3-8xG Series system includes the following:
Magnetic stand with poles

Valve manifold with solenoid or pinch valves

Reservoir bracket with 60mL syringe reservoirs

VC3 electronic valve controller with a USB cable and Valve Commander software

DB9-BNC8 cable for TTL trigger inputs or outputs

DB9-CABLE controller to valve manifold cable

Manual 3-way stop cock luer valves, manual pinch flow valves, spill sensor, tubing

MMF-8 MiniManifold TM 8 channel perfusion outlet manifold
Each VC3-8xG Series system features a choice of valves:
Pinch valves : The 3-way normally open and normally closed pinch valves require minimal maintenance in long-term perfusion experiments and have response times of 15-20 ms.
Solenoid valves : The 2-way normally closed solenoid valves are optimized for high-speed solution exchange. These valves feature a biologically inert internally wettable surface and have response times of 1-2 ms.
Additional options include:
5mL or 10mL syringe reservoirs
MLF-8 MilliManifold TM 8 channel perfusion outlet manifold