SP100

  Zive Potentiostat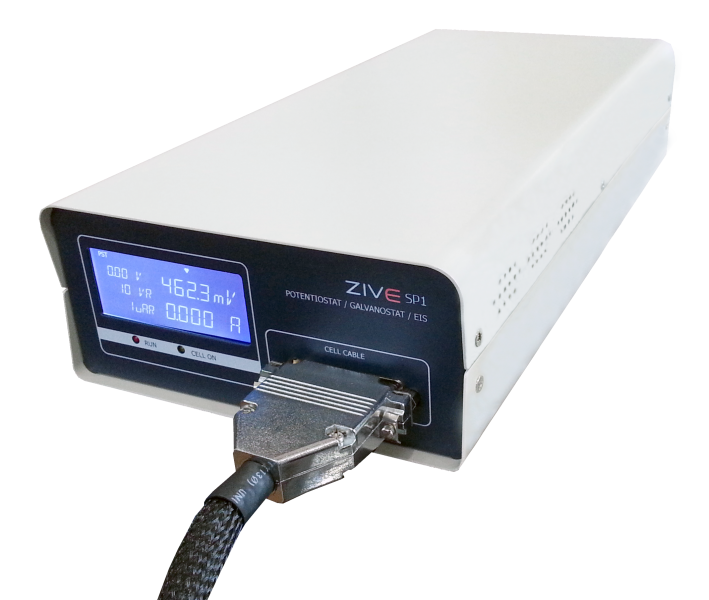 Solar Cells

Supercapacitors

Fuel Cells

Batteries

Sensors

General Electrochemistry
Overview
This is an economic, high precision potentiostat/galvanostat/impedance analyzer especially designed for electrochemical research with  batteries, fuel cells, corrosion, sensor and solar cells. It is supplied with three software packages:  
BATe control software specific to battery and fuel cell research

CORe control software specific to corrosion related experiments

EIS/EAs control software for general electrochemical experiments.  
The ZIVE SP100 electrochemical workstation is ideal for both fundamental research, as well as product development, and quality assurance programs.  This potentiostat excells in the following general categories:
new sensors 

corrosion/coatings

electrode materials

membranes

conducting polymers

battery materials

fuel cells

supercapacitors

photovoltaic materials and solar cells
The ZIVE SP100 operates in the following modes:
potentiostat, for voltammetric and chronoamperometric experiments

galvanostat

ZRA (zero resistance ammeter)

FRA (frequency response analyzer) for EIS (electrochemical impedance spectometry)
Analysis software included with the system is the acclaimed ZMAN analysis software.  Please contact your local eDAQ representative to discuss the very large number of analysis features within ZMAN.  
Specifications
Potential range: ±10V

Current ranges: 100 nA, 1, 10, 100 µA, 1, 10, 100 mA, 1 A

Current resolution: 16 bits:

Current Accuracy:  0.02% f.s

Frequency Responce Analyser for EIS: 10 µHz to 1 MHz

12 EIS techniques (including Multi-Sine)

Capable of Bipolar Pulse technique

Voltage pulse or current pulse charge/discharge test (GSM,CDMA etc.)

Ripple simulation available in Battery test package.

Pulse plating available

Internal 350,000 data point storage

Dimendions: 160 x 324 x 76 mm  /  2 kg

Includes software packages for:




– corrosion testing




– EIS




– electrochemical analysis




– battery testing

Warranty: 12 months